Home
WELCOME TO THE WEBSITE OF WILDLIFE ARTIST JEREMY PAUL
BBC Wildlife Artist of the Year – Category winner
2010 - 2011 - 2012

'Enforcer' Masai Mara Lion selected finalist in David Shepherd Wildlife Foundation Wildlife Artist of the Year 2016.
Exhibition at the Mall Galleries, London, 28th June – 2nd July
'Winter Light' wins 'British Wildlife' in its environment art award at
National
Exhibition of Wildlife Art (NEWA) 2015

Winter Light - Now available as a Limited Edition Print
BBC WILDLIFE ARTIST OF THE YEAR 2011 CATEGORY WINNER – FROZEN PLANET

NEW PRINTS AVAILABLE – PLUS FREE POSTAGE
SPECIAL OFFER – ORDER ANY PRINT AND GET A COPY OF JP58 WINTER FISHING  ABSOLUTELY FREE 
  NEW BOOK: WILDLIFE – AN ARTIST'S VIEW       NOW AVAILABLE – SEE BOOK/STAMPS

NEW ISLE OF MAN POSTAGE STAMPS
'Big Cats' in association with and to celebrate the 40th anniversary of CITES – the International Agreement on Trade in Endangered Species. Issue date September 14th
new 'stamp prints' now available
NEW LIMITED EDITION PRINTS NOW AVAILABLE – see

Wildlife Art Print

s
The accurate portrayal of wildlife in its environment is the essence of the wildlife art of Jeremy Paul, an artist whose work is shown in leading galleries. His wildlife paintings are increasingly sought after and is now in collections of wildlife art in the UK, Middle East and North America where he has also exhibited on four times in the prestigious 'Birds in Art' at the Leigh Yawkey Woodson Art Museum.
Wildscape magazine's Wildlife Artist of the Year in 2008 and

BBC Wildlife Artist of the Year Category Winner in 2010 - 2011 – 2012.
He has also been selected for the Exhibition for the David Shepherd Wildlife Foundation Artist of the Year 2008-2013
View the galleries of original wildlife paintings and a range of limited edition wildlife art prints of his work as well as some of his much admired postage stamp designs.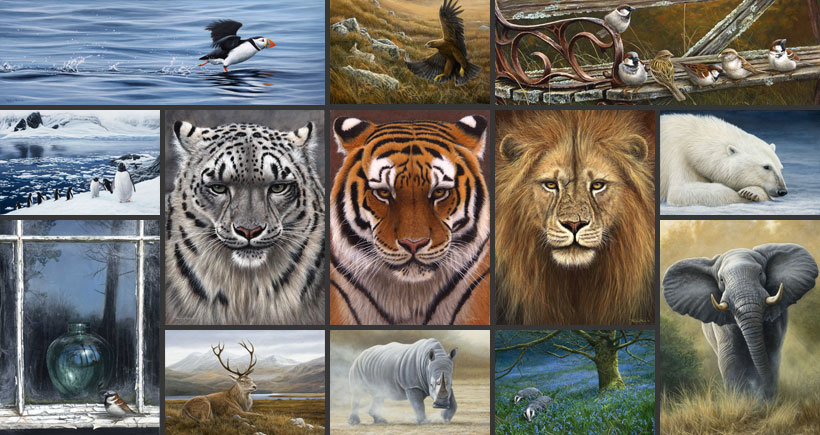 wildlife artists, wildlife art, wildlife paintings, wildlife art prints, bird paintings, big cat paintings, tiger paintings, Antactica paintings, polar bears